The Boham Family
(more information coming)
The Hall Family
Chris, Kimberly
Evelyn,  Josephine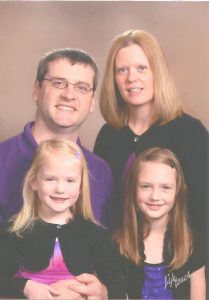 Kimberly began homeschooling in 2016 when her oldest was five years old.  She loves planning, preparing and executing each day of school.
They joined Catholic Schoolhouse in 2017 and fell in love with the program.  She was impressed with all the songs her girls learned and how excited they were each week to attend Catholic Schoolhouse.  With both girls in the grammar classes, they are enjoying the journey together.
She enjoys organizing, singing, dancing, reading, and being active.