The Graff Family
Harrison, Marian Michelle, Sam, Michelle
sitting: Ethan, Ruben, Toni
Toni's home school journey began in 1996 when her first son was five years old.  Just a few months after his birth, she became a stay-at-home Mom after working for 10 years as a Licensed Dental Hygienist.  Being home and the primary caregiver those first 5 years led to homeschooling.  She loved witnessing her sons' learning and growing and wanted the process to continue when it was time for Kindergarten.  Now with 3 children grown, married and one left homeschooling, we have discovered how much we love classical education, and have jumped into Catholic Schoolhouse full of joy and enthusiasm!
A few years ago, the family joined a local group called Classical Conversations and Loved it! Her enthusiasm for classical education in a group setting grew throughout the school year and never wavered.  They felt they had found a home within the community; except, she wished there were Catholic materials then it would be perfect. A quick Google search at the end of the school year led her to the solution and the rest is history. May 2014, Indianapolis Catholic Schoolhouse grew quickly in a few short weeks.
Toni married Ruben in Feb. 1988 a few years after meeting as a freshman at IU. They are parishioners of St. Alphonsus in Zionsville, enjoy being in their small church community and occasionally get a day out together. When Toni has a few moments to enjoy by herself she loves to try new recipes, go hiking and read fiction.
The Hall Family
Chris, Kimberly
Evelyn,  Josephine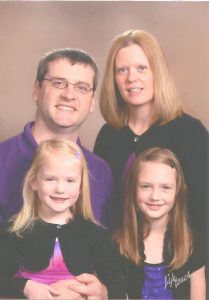 Kimberly began homeschooling in 2016 when her oldest was five years old.  She loves planning, preparing and executing each day of school.
They joined Catholic Schoolhouse in 2017 and fell in love with the program.  She was impressed with all the songs her girls learned and how excited they were each week to attend Catholic Schoolhouse.  With both girls in the grammar classes, they are enjoying the journey together.
She enjoys organizing, singing, dancing, reading, and being active.